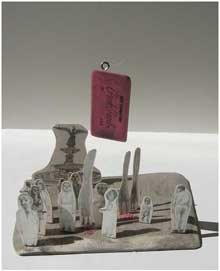 Eraser Series and related work...
In the early 1980's, I made the first of my prints that used the image of an eraser, in a piece about censorship. But 20 years later, the eraser seemed to symbolize the ultimate fear, that of our own non-existence. In this series, small stages are set with tiny pencil drawings of figures, some trapped in boxes with a variety of looming erasers. The delicate drawings of people, buildings, animals and trees are rendered in pencil, and the comparatively huge eraser becomes the instrument of their annihilation. The names and characteristics of the erasers vary from the ubiquitous and pretty "Pink Pearl" to the sinister "Magic Rub," "General's," Or "Mars," the God of War.In some of the most recent work, no actual eraser is present. This series includes "Pink Pearl Skeleton with a Blue Clown," whose exercise in futility was inspired by an early Ringling Brothers' Circus routine where a clown continually tried to run away from a skeleton attached to his back. "The Dixon Wonder," with its little mushroom cloud, is observed by Edward Teller, Albert Einstein, and the heartsick J. Robert Oppenheimer. "The Sheltering Sky,"with its figures of Kit and Port inside a broken egg-shell, was influenced by the Paul Bowles' book, and his character, Kit, who lives in fear of the terrors lurking beyond the thin membrane of sky that protects us. A recent awareness of the fragility of precious city streets and beloved buildings pervades this work, as well as thoughts of various possible and impossible doomsday scenarios. Our age of color-coded alerts is alternately frightening and funny.So, in only half-joking pieces, I've imagined the unthinkable in these cartoon versions of being rubbed out.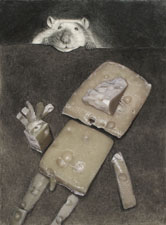 "Endings" Drawings...
In these pieces about endings, I've combined digital prints of my sculptures and photographs with charcoal and graphite drawings. In apocalyptic fantasies, inspired by actual events, huge Pink Pearl erasers hang from the sky, an enormous creature "Untitled" (Dead Thing) is mourned in a stark landscape, a figure composed of flower petals decomposes, and monstrous potatoes, ("Little Big Brother" and "Eye-da-hoe") loom over small keyhole people.Thoughts about the Patriot Act led to thoughts about potatoes, seemingly mundane vegetables, so much a part of the American landscape, but with all those eyes to see us with. Then the potatoes sitting around my room began to sprout, and they looked like monsters out of a horror movie, who then gave birth to many smaller monsters.I've continued to make pieces using my cheese sculptures, begun several years ago. A figure morphed, by bullet holes, into "Swiss Cheese Man" will be finished off by a rat, leaving no trace of his existence.